Doors and concessions open at 7pm • Films at 7:30pm (unless otherwise noted)
Saturday, September 1
Director: Steven Spliberg
Starring: Henry Thomas, Drew Barrymore, Peter Coyote
Run time: 1 h 55min
A troubled child summons the courage to help a friendly alien escape Earth and return to his home world.
Sponsored by Mason and Breighner CPA.


Thursday, September 13
Appalachian Festival Theatrical Production:




The Brownsville Project
7pm • Free and open to the public
Featuring Clory Jackson & Caroline Hann
Inspired by an invisible, yet powerful overlap in their family history, Clory Jackson and Caroline Hann have embarked on a creative journey to explore and confront the history of Brownsville, MD, and its social impact on the lives of Brownsville descendants and Western Maryland residents. This interactive theatre experience seeks to explore the story of a place where race, class, gender and family pride meet.
Come actively remember the community of Brownville in this theatrical production. Learn how Brownsville was created, and how it is present in our community today.
More information • Facebook Event Page


Saturday, September 15
Appalachian Festival Capston Concert:
Kaia Kater
Anna and Elizabeth
7:30 pm • Tickets available August 27 at ces.frostburg.edu
KAIA KATER
A Montreal-born Grenadian-Canadian, Kaia Kater grew up between two worlds: one her family's deep ties to folk music; the other the years she spent soaking up Appalachian music in West Virginia. Her old-time banjo-picking skills, deft arrangements, and songwriting abilities have landed her in the spotlight in North America and the UK, garnering critical acclaim from outlets such as NPR, CBC Radio, Rolling Stone, BBC Music, and No Depression.
Kaia started her career early, crafting her first EP Old Soul (2013) when she was just out of high school. Since then, she's gone on to release two more albums, Sorrow Bound (2015) and Nine Pin (2016). Her most recent album weaves between hard-hitting songs that touch on social issues like the Black Lives Matter movement ("Rising Down," "Paradise Fell") and more personal narratives speaking to life and love in the digital age ("Saint Elizabeth"). Nine Pin won a Canadian Folk Music Award, a Stingray Rising Star Award and sent Kaia on an 18-month touring journey from Ireland to Iowa, including stops at The Kennedy Center, Hillside Festival and London's O2 Shepherd's Bush. Kaia is currently working on her next album, due for release in late 2018.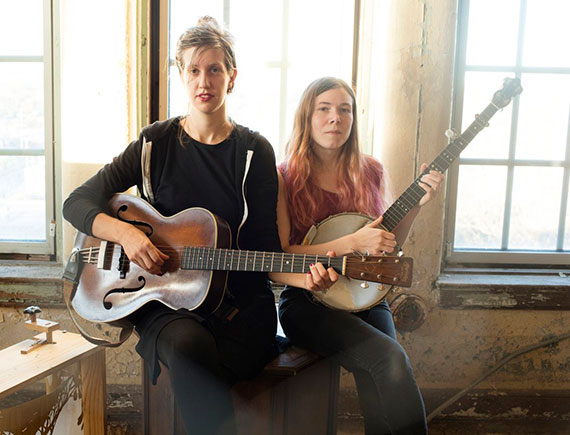 ANNA & ELIZABETH
Anna Roberts-Gevalt is a voracious and curious musician who nestles in the space between ancient ballads and new sounds. After spending years in Baltimore's underground art scene, she now resides in Brooklyn, NY. She fell in love with the sound of banjo in college, moved to the mountains, and learned with master musicians in Kentucky, Virginia, and North Carolina. She has been a fellow at the Berea College Traditional Music Archive and OneBeat (Bang on a Can's Found Sound Nation); three years artistic director of Kentucky's traditional music institute, the Cowan Creek Mountain Music School; and co-curator of Baltimore's Crankie Festival. She is a summer 2017 fellow at National Sawdust in Brooklyn, and recently studied in a workshop with Meredith Monk.
Elizabeth LaPrelle is a world-renowned ballad singer who resides on a farm in Rural Retreat, VA. The student of master singer Ginny Hawker and National Heritage Fellow Sheila Kay Adams, LaPrelle was the first recipient of the Henry Reed Award from the Library of Congress at age 16, and won the 2012 Mike Seeger Award at Folk Alliance International. She has been hailed as "the best young Appalachian ballad singer to emerge in recent memory" by UK's fRoots Magazine.
More information • Facebook Event Page