The Palace Film Club was formed in the spring of 2005 as a way to offer local cinephiles the opportunity to view and critique films in a social setting. The structure is modeled on the traditional book club—members gather at the Palace on the second and fourth Saturdays of each month to screen and discuss a feature length film. The films are projected onto the big screen from DVD using a high quality projection and sound system. Following the film, discussions usually convene and libations often materialize. For reasons of copyright, these meetings are members-only, and are not open to the general public. However, membership to the film club is open.
Membership is yearly, calculated from the exact date of enlistment, and dues are $25. Benefits of membership include complimentary coffee or tea at each meeting and film selection privileges. Please consider becoming a member—it is an excellent way to become involved with the Palace Theatre and the local film community.
How to Join
You may join the film club by coming to any of our scheduled meetings and paying your annual dues of $25. You may also do this at Main Street Books in Frostburg during business hours.
For current schedule information, visit our Facebook group page.
Voting
Film club movies rotate through three basic categories: foreign/independent, classic, and documentary. Selection of films from these categories is by vote through an email sent to all Film Club members. Film club members received an email with a link to place their vote. For more information, email Shane at filmclub@palacetheatre.org.
Saturday, June 10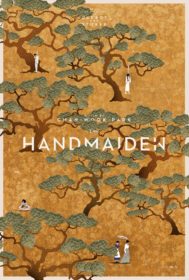 Run time: 2 hr 24 min
Director: Chan-wook Park
Starring: Min-hee Kim, Jung-woo Ha, Jin-woong Jo
A woman is hired as a handmaiden to a Japanese heiress, but secretly she is involved in a plot to defraud her.